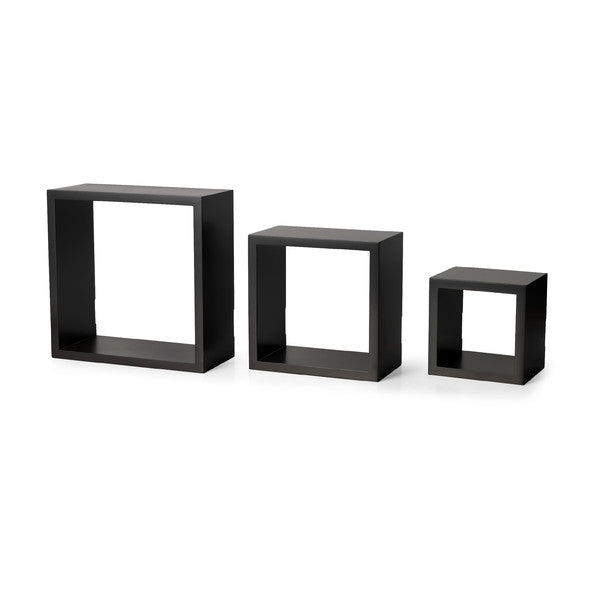 Brown Set of three Cube Wall Shelves BOOK Rack Storage Display Decoration Shelf
5010BR
Regular price $59.00 Sale
Product Description
These Square Shelves are an attractive addition to your home décor, and provides display space for your favorite keepsake Brighten up your home, office or art gallery for boasts a sleek, slender design so it fits in smaller spaces. It's is an Ergonomic Design and quality decoration for any type of home, office, warehouse, school, church, conference room or medical setting. Sets up quickly. This set of 3 Rectangular/Square Cube Shelves easy to install in a few minutes. It is a piece of art and one of best way of space saving efficient & is perfect for displaying favorite books, collectibles, photos, toys, awards, CD's, videos, decorative items and more. They can be hung with the vertical sides either up or down, according to the effect you want to create. With the vertical sides up, it is like having a built in bookend. With its contemporary walnut brown, they are the ideal accent for any living space. Makes great decoration to the wall and room.
FEATURES:
Lightweight for quick, easy assembly. Durable MDF material 
Several different combination options; create exactly the system you need 
Smooth and easy for perfect cleaning 
Decorative and functional 
Best to create library, display and highlight a favorite collectible 
Finish: Brown color to fit any decor 
Materials: Wood Mdf & laminate 
3pcs artistic solid wall Cube storage shelves 
Smooth surface 
The boards are of high quality-elegant and durable 
Makes great decoration to the wall and room 
Easy to put up and remove, easy to maintain and clean 
Perfect for storage and display of DVD, books, toys 
Package included: Set of 3 Wall Shelves CUBES with all Mounting Hardware 
Ships full assembled, no assembly required. Wall installation hardware is included
SPECIFICATIONS: 
Large shelf dimensions: 10" x 10" x 4" 
Medium shelf dimensions: 8" x 8" x 4" 
Small shelf dimensions: 6" x 6" x 4"