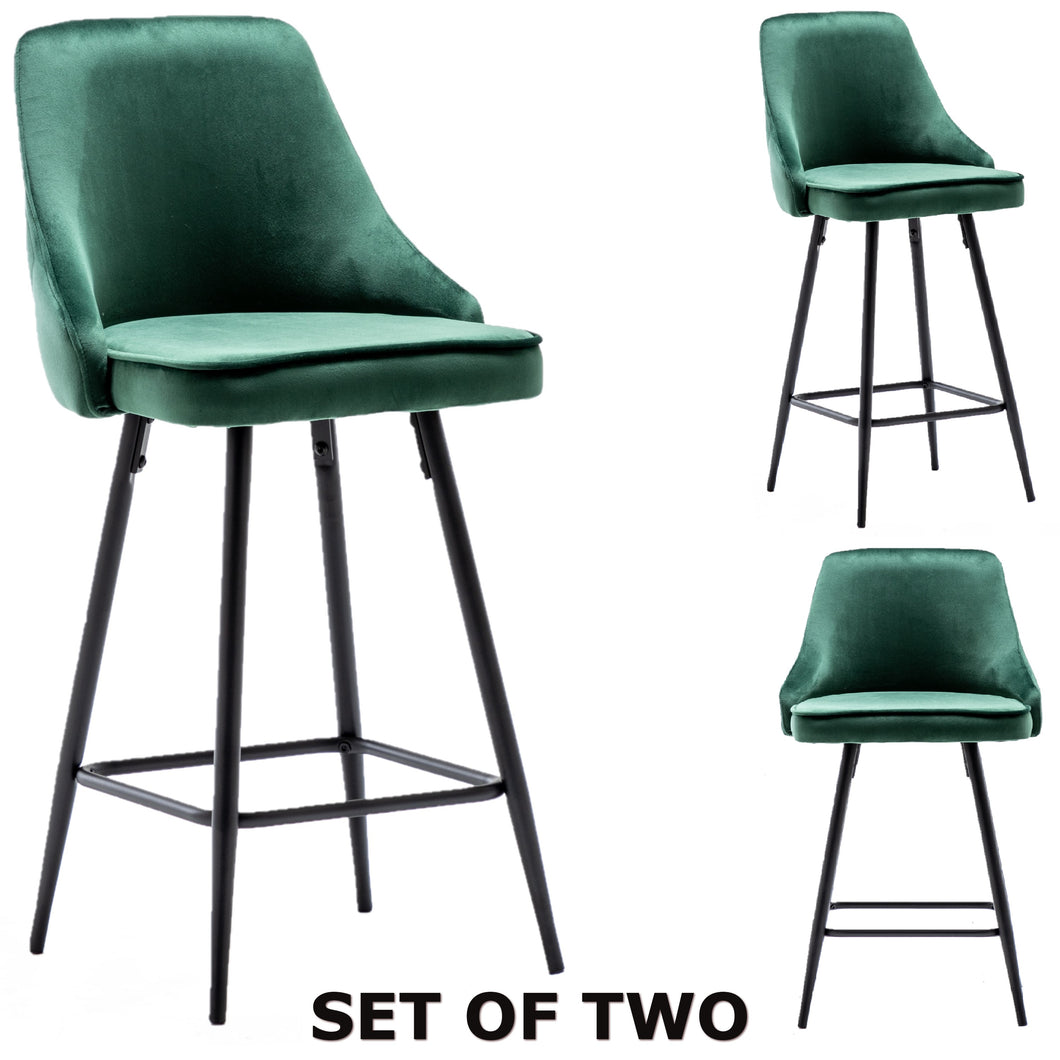 Faiza Velvet Geen Upholstered Modern Premium Stool Bar Chairs
5123-2
Regular price $137.00 Sale
The Faiza Barstool stands out with a sensual plan and fashionable style. This barstool geographies hard-wearing velvet upholstery, slender midnight black fusion legs, and sparkling shine. A sheen gives this accent a finishing touch that is truly unique.
These elegant mid-century modern High Back Stool Chairs feature solid metal construction and an upholstered velvet seat with padding for comfort. These high-back dining chairs feature plush upholstered velvet on a durable metal frame for a distinctive contemporary look.
Open sides allow for freedom of movement, perfect for gatherings around the dining table. The foam padding system helps keep the back and seat firm and springy. Contemporary Style Bar Chair. Minimum Assembly required.
Unassuming and up-to-the-minute stools add an intellect of stylishness to your room, which can effortlessly suit the kitchen, counters, and cafes. Delight in the pastoral appeal of this unsoiled and modest dining barstool. The fabric padded barstool seats suggest their very individual dissimilarity of style.
Wonderful! A sophisticatedly gorgeous lynchpin for any dining room, this barstool is indisputable to bring coziness and elegance to any living zone.
Bask in deep moderated comfort with the accent chair that sinuously combinations to your home style. The ceremonious surface of beauty is investigated with this unique design. Accommodate constant further seating with these chairs. Featuring upholstered velvet with a touch and sparkle of charm.
Smooth velvet creates a sensational declaration with grace galore. The velvet upholstered chairs provide a handsome variation against the slender black legs and end for an appearance that is as intimate as it is chic.
CA 117-2013 Fire Compliant.
Seat height 25 inches
Overall Height 36 inches.
Seat Size: 15.75" Depth x 17.75 " Width x 37" Height.
Overall Dimension 17 inches x 23 inches x 36 inches.
Ultra-modern
-Upholstered
-Back Height (Seat to Top): 12.5"
-Weight: 30lbs
- Weight Capacity: 300lbs